Subscribe to our newsletter:
During the first weekend of February, a polar vortex brought record low temperatures to Eastern Canada. Despite brutal weather conditions, Amazon delivery drivers were forced to work for consecutive days in cold so extreme that "exposed skin can freeze in 5 to 10 minutes" according to the Canadian Centre for Occupational Heath & Safety. In Montreal, where temperatures went down to -42°C, eight drivers in Endmile Logistics, a Driver Service Partner (DSP) of Amazon, quit after being told they would have to work.
According to Jesse Chase, a driver who works for Endmile Logistics: "Amazon sets the cut-off for when we stop working at -45°C, so this was really right on the limit. On the coldest day of the polar vortex when it was -42°C with the wind chill, 8 drivers from my DSP didn't come in, and when dispatch called to see why, they never responded or picked up the phone again."
Christopher Monette, director of public affairs for Teamsters Canada, a trade union that represents UPS and Purolator workers, told North Star: "The law does not specify a certain temperature where it becomes too cold to work outside. However, that does not mean there is a legal vacuum. The employer still has a responsibility to provide a safe work environment." In the case of Amazon, their DSP system blurs the lines of who carries that responsibility.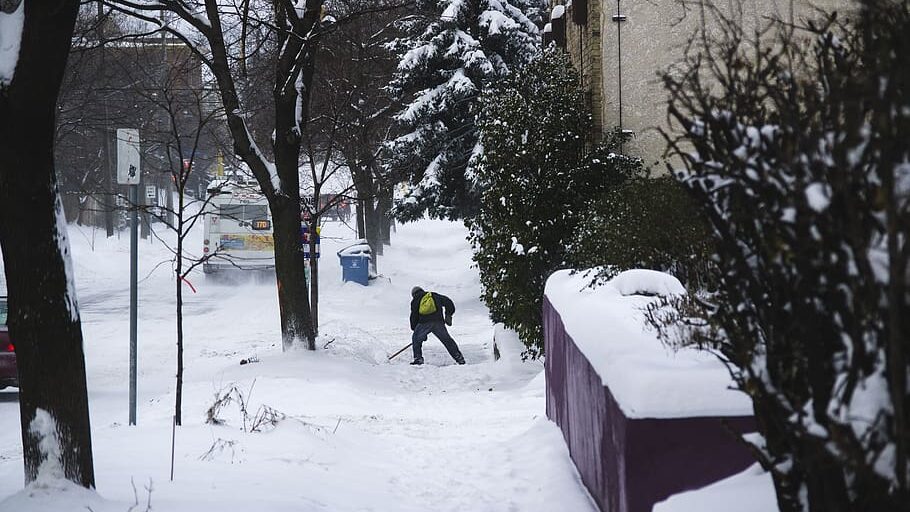 Amazon's DSP system is a network of sub-contracted companies that fulfill a significant amount of their warehouse-to-doorstep delivery needs. The company now has over 3,000 DSPs globally that directly employ more than 275,000 drivers, and have generated the company $26 billion in revenue over the past four years. Despite being "independent contractors", DSP drivers are subject to a set of Amazon policies, drug tests, and constant in-van surveillance that watches their every delivery.
A DSP can be started by anyone with $30,000 in the bank; they can then employ up to 100 workers and operate up to 40 vehicles. Chase explains what it's like being a DSP driver: "There's barely any oversight, the guys running my DSP owed me over $2,000 in over-time pay and when I confronted them about it and brought up the labour laws they were violating, they sent me home 'to discipline me'… They get away with a lot."
Chase continues: "We got directives from Amazon telling us we have to turn off our vans everytime we make a delivery, to save on gas or whatever. But what are we supposed to do when it's -40°C? Those vans already have so many problems, no way I'm turning it off in that weather. Our DSP told us to just keep our vans running throughout it [the polar vortex], sometimes you don't know who to listen to."
During the writing of this article, Chase was fired from Endmile Logistics soon after he filed a claim with Quebec's Commission on Workplace Standards, Fairness, Health & Safety (CNESST), for the over-time pay he hadn't been fully compensated for. "A week after they sent me home for asking for my overtime pay, I started getting my shifts cancelled. After cancelling three of my shifts in a row, the owners called me to tell me that they were terminating my employment. Now two weeks later, I still haven't gotten my missing wages."
Even in their warehouses, Amazon doesn't seem to provide sufficient protections for their workers from extreme temperatures. "I was sorting inside a trailer, and in the enclosed space it gets really hot and humid, making it hard to breathe. They only had one ventilator in there, so I told the operations manager that they're supposed to have two ventilators, and you know what they gave us instead? Cooling bandanas, and we had those just for a week," said François, a former worker at a Montreal warehouse.
Without clear labour laws to hold employers accountable to protecting their employees from extreme temperatures, Amazon has created their own policies to increase productivity that put their workers and contractors at risk. Monette explains: "We cannot ask delivery drivers to work in -45°C as if it were nothing. People's health and safety must come before Amazon's packages and quotas, without exception."
Mostafa Henaway, organizer with the Immigrant Worker's Centre and the Amazon Worker's Committee, provided his perspective on DSPs to North Star: "All these workers work for Amazon. Amazon tells them what to do, they deliver Amazon's packages, and they essentially get paid by Amazon. They've set-up these fake business (DSPs) where all the owners are essentially middle men. This makes it so drivers can't unionize, because if they could, it would be the end of Amazon's entire economic model."