Subscribe to our newsletter:
On September 15, the United Auto Workers union (UAW) in the U.S. launched a major strike against the "Big Three" — Ford Motor Company, General Motors Company, and Stellantis (Fiat-Chrysler). This strike marks the first in history to simultaneously target North America's largest automakers.
The union is demanding a 46% wage increase over four years, a 32-hour work week with 40 hours of pay, cost-of-living pay raises, and a return of traditional pensions for new hires. The UAW also seeks to unionize workers at 10 electric vehicle battery factories to ensure that they receive the UAW wage and benefits packages.
Currently 13 000 workers are on strike, with the UAW claiming that more workers are ready to walk-off the job when called upon. The UAW is comprised of 145 000 members. Strikes are occurring at General Motors' plant in Wentzville, Missouri, Ford's truck plant in Wayne, Michigan, and Stellantis' plant in Toledo, Ohio. By adopting the "stand up strike", the UAW is strategically calling upon specific union locales to join the strike to increase the pressure against automakers.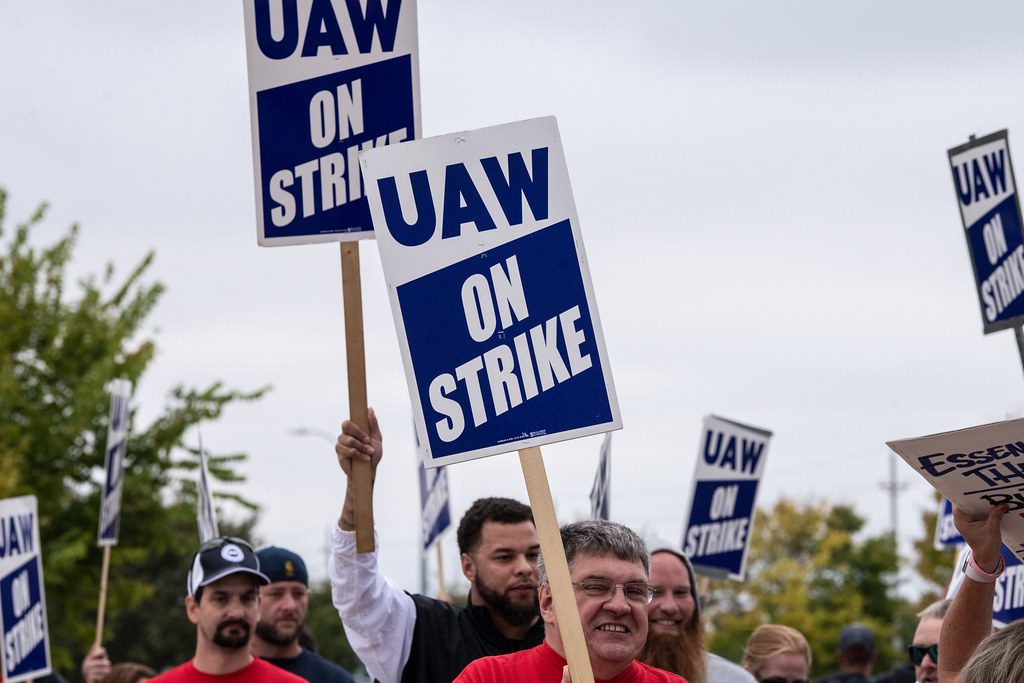 The "Big Three" cut wages and benefits for autoworkers during the 2008 financial crisis. In a continuing trend of monopolists reporting record or near-record profits in 2023, Ford and GM reported second quarter profits of 1.9 billion and 2.6 billion USD respectively, while Stellantis reported a net profit of 11 billion USD for the first six months of 2023.
In Canada, UNIFOR is in negotiations with Ford Motor Company to secure a new contract. Negotiations are comprised of similar topics of pensions, wages, and transitioning to electric vehicle production jobs. In August, UNIFOR members working in Ford, GM, and Stellantis factories voted 99% in favour of striking. If no deal is reached by September 18, UNIFOR workers in Canada will go on strike alongside their American counterparts.
The impact of a strike on Canada's auto industry would be significant. With over 135 000 Canadians working directly in the sector and another 400 000 indirectly within dealerships and aftermarket services, it contributes around $16 billion to the country's GDP as its second largest export.