Subscribe to our newsletter:
With Canada poised to sign a new 'enhanced defense cooperation' agreement with the Philippines, human rights attorney and former Filipino congressman Neri Colmenares completed his cross-Canada tour with a presentation before a crowd in Vancouver at the Harbour Centre on Simon Fraser University's campus on Tuesday, October 18.
North Star was able to sit down for a short interview with Mr. Colmenares before his public lecture and asked him whether there has been any change in the human rights abuses—so prevalent under the previous government of Rodrigo Duterte—since Ferdinand Marcos Jr. came to power just over a year ago.
"It has continued," said Colmenares. "Sixty cases of extrajudicial killings in the first year, and these are mainly human rights defenders, activists. We have a separate tally for drug suspects, and according to the research unit at Ateneo University, 300 drug suspects have been killed in the first year of President Marcos Jr. So, it still continues, the extrajudicial killings."
Colmenares is particularly concerned about the practice of 'red tagging' in which Philippine military, police, or state-aligned media label environmental and human rights activists, labour organizers, and peasant leaders as 'communists' or 'terrorists' who are subsequently killed by state-linked forces.
"Red tagging is mainly, of course, to stifle dissent by calling you terrorist," says the veteran human rights lawyer, "hoping that the person being alluded to would fear government crackdown because he or she was called a terrorist and therefore would no longer express their views or opinion. That didn't start with Duterte, but during martial law imposed by [Ferdinand Marcos Sr.] before. Almost every activist and opposition leader were all called communists. Of course, at that time, 'terrorist' was not yet that big word then."
"Have there been victims of red tagging who were subsequently killed, became victims of extrajudicial killings? Yes. Of course, one of the more famous cases was Zara Alvarez, a young mother of one who was a human rights defender, and she was killed after a few months of being red tagged. Lawyers, human rights lawyers like Ben Ramos, who was red tagged, and then he was also killed. So, there are many victims, even me, actually. All of us have been called various names by the government."
In 1983, as a 24-year-old youth activist against the Marcos dictatorship, Colmenares was himself jailed and tortured for four years.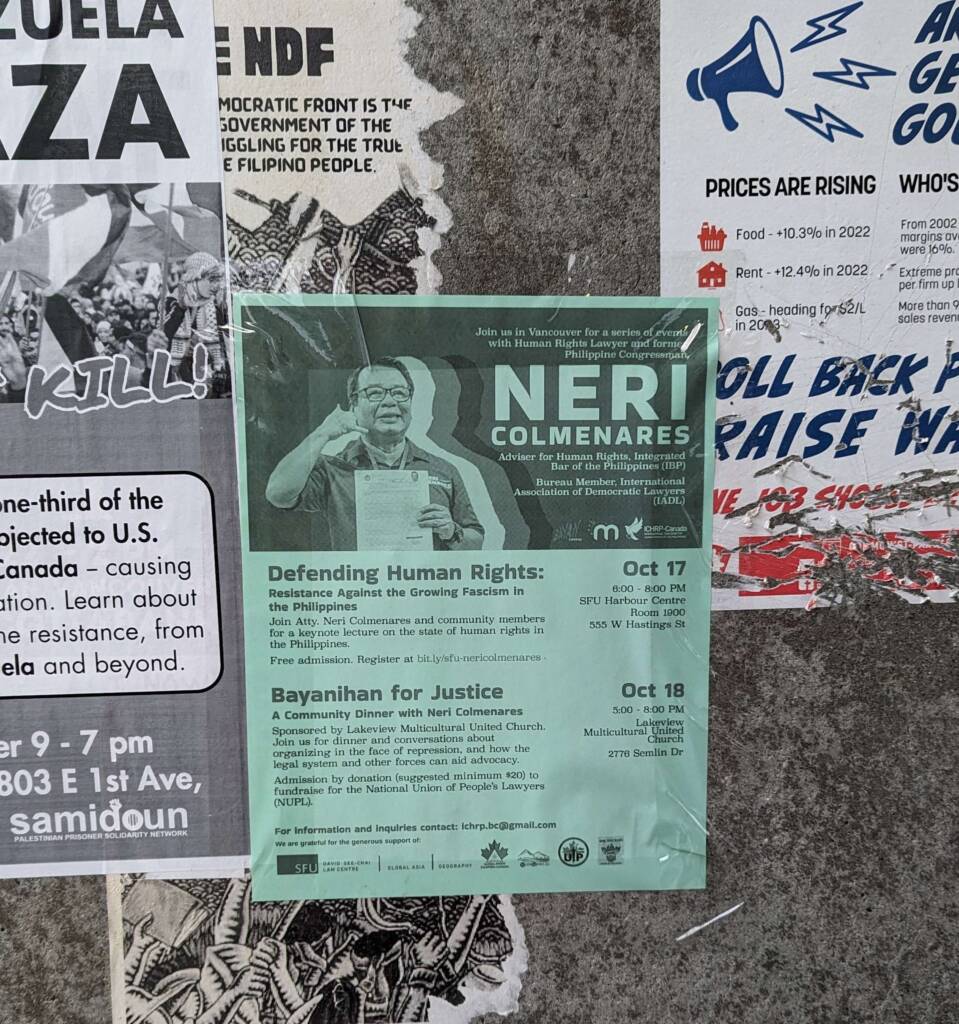 "The problem with the government is that, in the first place, everyone who dissents is called a communist. So therefore, people—many probably are not even communists, but are dissenters—are killed. But even then, if you are a communist, then that's a political belief, and you shouldn't be executed on the basis of your political beliefs, but that's how it is in the Philippines."
In this context, Colmenares and other human rights defenders are raising concerns about the growing military ties between Canada and the Philippines represented by the 'enhanced defense cooperation' announced by Melanie Joly, Canada's Foreign Affairs minister, on her May 2023 trip to the Philippines.
"If you are going to enhance your defenses, it would be in relation to the South China Sea. Personally, I couldn't see how you can differentiate it because the moment you provide them with helicopters to guard the South China Sea, they can also be used internally. If you train, its the same. They can use these trainings and this technology and these weapons anyway, internally."