Subscribe to our newsletter:
Since July 19, the Manitoba Liquor and Lotteries (MBLL) distribution centre in Winnipeg has been on full walk-out strike. Retail workers across the province however, joined the walk-out once again between July 26 to July 30 to protest, what workers are calling, "the most insulting" and "a slap in the face" offer of a 2% wage increase every year for four years.
During the 5 day walk out on July 28, MBLL hired replacement workers (also known as scabs) for the Distribution Centre and delivery drivers who, according to MBLL workers, are getting paid 6$ more than the workers on striking for better wages. Certain stores were open in the province run by managers, notably 6 stores were open in Winnipeg.
Once the 5 day walk out ended on July 30, the Manitoba Governement and General Employees Union (MGEU) called for the Liquor Mart workers to go back to work with very limited duties. However, MBLL locked out the the employees of the 6 stores that were open (run by managers) in Winnipeg and 1 in Brandon during the walk out- for one day.
Each day since the initial lock out of the 7 stores, MBLL began to slowly lock out more and more workers across the province, denying them work. As of Tuesday August 8, 22 stores in Winnipeg and 12 rural stores are locked out making a total of 36 out of 63 stores across the province locked out.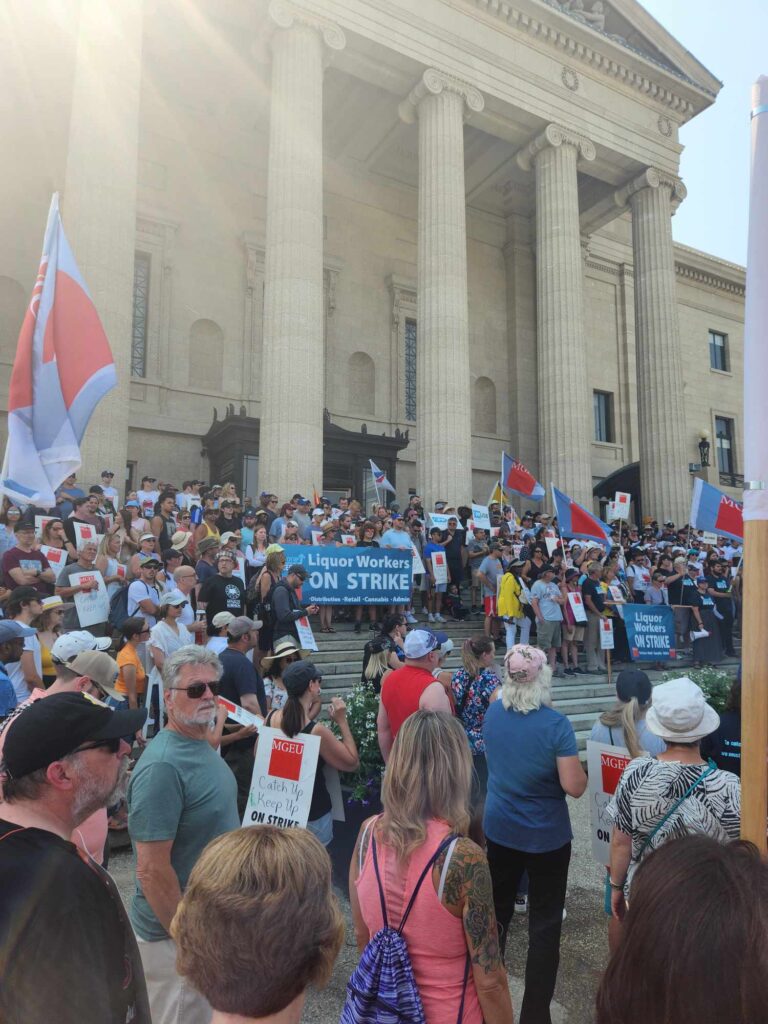 Faced with the current situation, an anonymous worker told North Star, "I'm now sitting here wondering if I wasted 15 years of my life" Another worker added how, "They [MBLL] really don't care about us. We will make them listen if we hit them where it hurts."
After MBLL escalated by locking out over half of their workers, MGEU responded with a full walk-out across the province. 1400 MBLL workers will be on strike across Manitoba until they receive a fair deal.
When asked about how they're feeling about the strike, an anonymous Liquor Mart worker told North Star, "I'm a firm believer for fighting for that end goal and not giving up. It may suck but I'm in this for the long haul."