Subscribe to our newsletter:
​
The popular Winnipeg dinner theatre, Celebrations, opted to close down operations on September 8th after 3 days of strike action instead of bargaining with its workers. The workers had gone 3 years without a contract in good faith to the employer as it was "clearly a difficult time for businesses" during the pandemic.
"Imagine going to Disney Land, but there's no Goofy or princesses—that's what we did, we were those people directly interacting with the guests, we were serving, we were doing improv." Despite that workers would be performing for their entire shifts, "we had been given minimum wage, the tip outs were pooled amongst the entire staff. You would probably walk away with 30 or 40 dollars extra a night" Carson Mauthe told North Star.
"We wanted to allow Celebrations to get back on its feet [after the pandemic]... After opening up the theatre we went straight back to work, it was a very busy and lucrative time for the business, people were very much happy to get back to seeing theatre performances, we were reaching theatre capacity near daily, so we thought it was a good time to get back to negotiating table."
"Anyone who's been involved in a union or any negotiations for that matter, will tell you negotiations take place over multiple sessions; over maybe a month or two months or three months." Celebrations however, only negotiated over 1 day—1 session.
"The employer said 'no' to everything, and then a day later e-mailed a final contract offer. Essentially that means the employer is not willing to negotiate further... It felt like a slap in the face, it was basically a continuation of the previous contract for another few years. There was very tiny additions, for instance, the employer would allow us to keep a union binder in the box office so we would be allowed to keep newsletters in the box office."
The workers voted unanimously for a strike, "we didn't want that offer, it wasn't sufficient for us... So that's how we felt as a group, after so much good will that we showed to them by remaining without a contract for 3 years during a pandemic and busting our asses to get them back on their feet... That's how we decided to strike."
​​​​​​​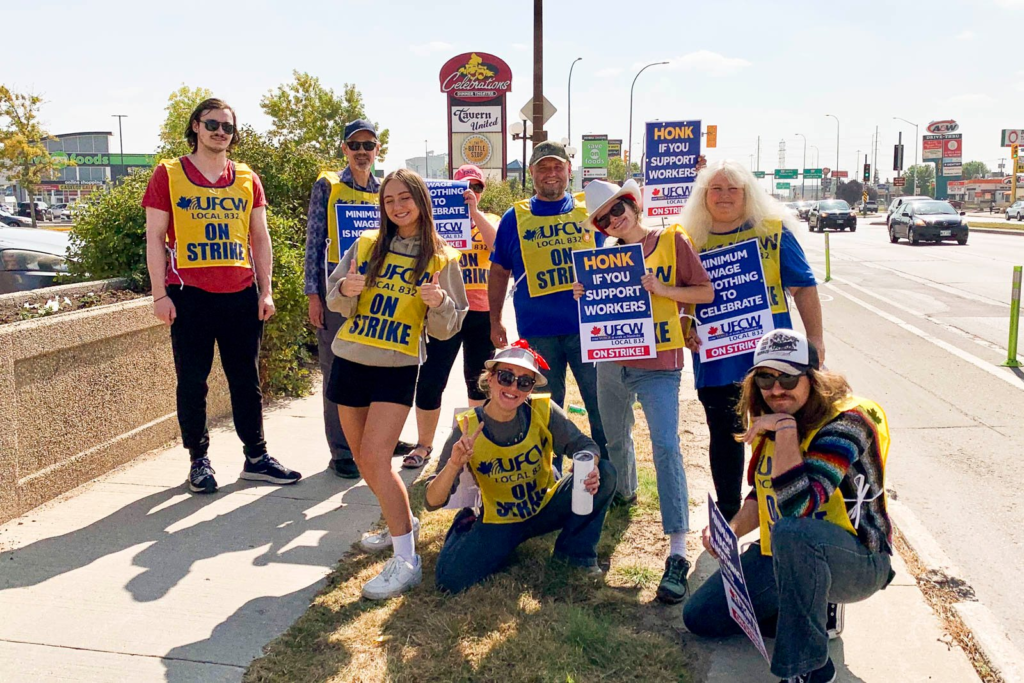 "I am not surprised this is what this particular employer has decided to do. I am however, shocked somebody would leave a workplace and a business like that in lieu of meeting us anywhere in the middle."
Summing up the strike experience Carson Mauthe concludes: "I understand there's a need to be angry and to say to people that we are fucking pissed but... I felt that our strike was an extremely good opportunity to show Winnipeg who we are as a workforce and remain positive, bring people up. We made it a party, I'd rented a PA speaker, I brought a drumkit, people brought noisemakers, people brought paint, we were just having a good time, we were partying, because that's what we were doing at our workplace." ​