Subscribe to our newsletter:
On May 29, over 200 people came out to a last-minute march at the Canadian Border Services Agency offices at 6900 Airport Road in Mississauga, Ontario. Since then, groups of international students have been protesting 24/7 to denounce the possible deportation of hundreds of their peers in the coming months. The first one could come as soon as June 13.
The source of the problem lies in forged school acceptance letters sold to students thinking they were receiving official papers and produced by private companies in Jalandhar, Punjab (India), which specialise in issuing visas. After 100 of them submitted applications for permanent residency, the government discovered that they had approved them on the wrong basis and is now threatening with expelling them. Students and their families have paid high fees to the admission services to prepare the many documents required to apply for a Canadian visa—a lucrative business for these fraudulent services in India.
Up to 700 students that could be in this situation arrived in Canada to begin their studies between 2017 and 2020. Many have since graduated from their programs, several studying mechanical, chemical and computer engineering, and are now working full time in Canada, looking to build a future here.
International students pay exorbitant tuition prices, paying as much as triple the fees domestic students pay. "We invested 5 years, $50,000-$60,000, every single student here, this is injustice," Lovepreet tells North Star. A mechanical engineer graduate, Lovepreet has already been in Canada for five years, but now is the second student facing being deported on June 13, 2023.
The agents in India have been charged with fraud but the students' futures in Canada still look uncertain. Lovepreet explains, "We are not a burden for Canada, we are qualified people here, contributing to the economy, but we need rights. Please don't do this to us."
With employment at an all time high in the country, international students are filling jobs that would otherwise be left vacant. Sales and service occupations had the most open positions last year (339,515), followed by trades, transport, and equipment operators (180.335). In October 2022, the Federal Government has lifted for two years their 20 hours of work per week limit. The 807,750 international students in the country are today contributing to producing goods and serving clients in every province and territory.
"At first I thought I was the only one facing this situation, and that was extremely hard, but I am very happy right now," Dimple tells North Star, citing the developing solidarity between international students and the community through protests in the last 5 or 6 months.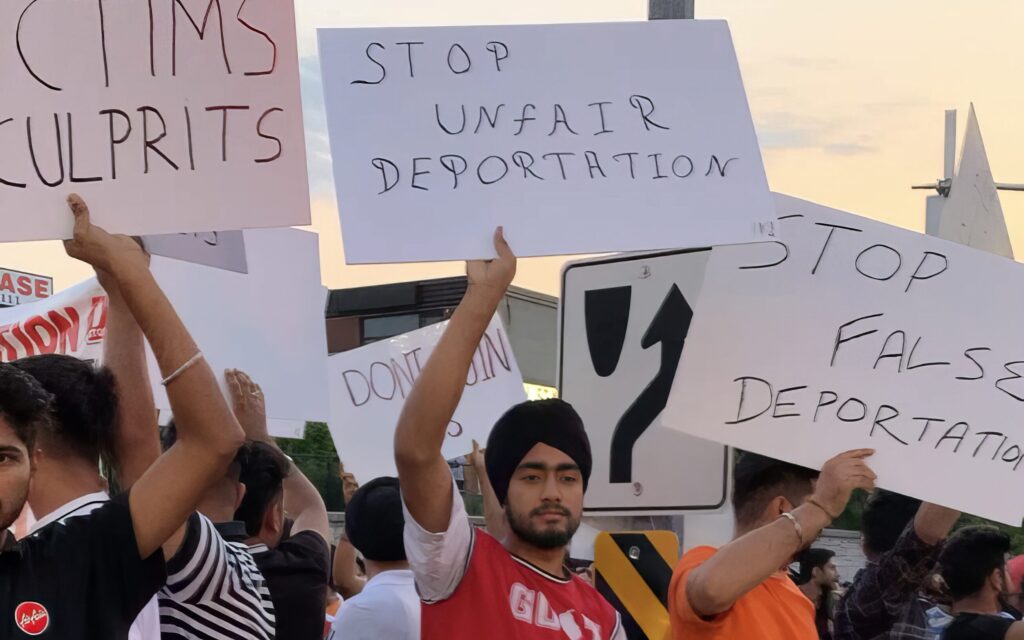 Inspired by large farmers' protests in India, international students tell North Star they are having a 24-hours-a-day, 7-days-a-week protest, staying all day and night outside the immigration offices until their cases are resolved. "Nobody wants to protest. Everybody here, they are very hard working people," Lovepreet tells North Star. "But what else can we do? We have gone to the MPs? We don't have any other options."
For several months the students have organized against the deportations by contacting Members of Parliament and spending thousands more on lawyers. Canada's Immigration Minister Sean Fraser declared that victims of the fraud would not be penalized, but deportations continue to be scheduled nonetheless. Despite being given initial hope, the students report that the MPs and lawyers are now saying they cannot help.
Karamjeet Kaur, based in Edmonton and married to a Canadian, has been granted an extension of her deportation order based on a court ruling that she could not have known about the fraud. However, another student explains: "I am waiting for the decision, but whoever I know who already has gotten it, they all got negative results so I don't have much hope that they will give a positive decision in my case." They add that this process of going one by one in front of the court is frustrating and punishing.
Dimple tells North Star about the reasons that led them to protest. "We went to all the MPs, personally, we trusted them to solve our problem, but they said there is no solution. So this is the last step that we can take now." With June 13 approaching fast, even more community support is expected to be present on the day of the planned deportation. There have also been more government and opposition leaders calling on Trudeau to outright cancel the deportation orders.