Subscribe to our newsletter:
Amazon is in turmoil: after workers in Staten Island imposed their first union on the multinational last year, now workers in the UK are resisting too. "I think what we've done here is we've taken on a giant," Darren Westwood tells North Star reporter on the ground in Coventry. Coinciding with the Prime Week sales on Tuesday and Wednesday, approximately 1000 workers have initiated a three-day strike action from July 11th to July 13th. Along the picket line, a worker displayed a placard bearing the union's well-known slogan: "I am not a robot."
Darren Westwood is a worker at Amazon's BHX4 fulfillment centre in Coventry and a GMB Union (a general UK trade union) representative for Amazon in the Midland regions of England. Alongside Garfield Hylton, BHX4 worker for 5 years and GMB representative in the warehouse, they have participated in 22 days of action since the beginning of the year. "We had a really good, solid base to start with and we stuck together" says Westwood. "So on the first walkout, and the strikes that followed, we've built up that body of workers inside BHX4 to take Amazon on."
Before this week's action, a strike vote supported by 98% of the warehouse workers had been held in late 2022, and action was called in early 2023. This marked a historic moment for Amazon's UK workers: the first strike against the company. According to Hylton, "people are now getting brave to say, 'hang on, safety in numbers, let's all get together...' You can't ignore that many people complaining that things are not right." And rightly so, since the start of the campaign, the workers at the BHX4 warehouse have managed to secure a number of benefits.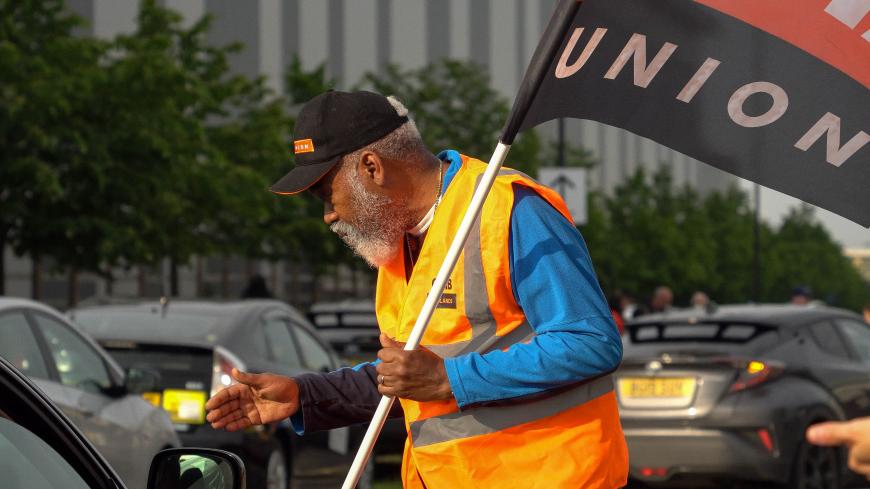 Trained worker representatives now play a crucial role on the shop floor, ensuring their presence during disciplinary discussions and conversations between management and workers. Additionally, the campaign has, for now, resulted in gradual pay increases and a £500 cost of living supplement, although conditional on authorized attendance. The warning system has undergone a complete overhaul, specifically at BHX4. Another notable achievement is the successful effort to get managers off the shop floor, where they used to closely monitor and pressure workers.
However, the confrontation between the workers and the retail giant began earlier, in the summer of 2022, when the company offered a 50 pence increase, which is a minor improvement from the national minimum and the lowest wage out of all the Amazon warehouses in the UK. The workers are now demanding an increase to £15, which they see as the minimum for a decent life. The extremely pressurised working environment is also to blame, as Garfield explains: "They can monitor you, per minute, per task – it's micromanagement."
The company also shows very little respect for workers' conditions. A BHX4 worker whose husband had passed away a few years ago in an event unrelated to Amazon, had to pawn off her wedding ring twice despite working overtime because she couldn't provide for herself on her current wage. Sabrina, another BXH4 worker, had a heart attack while working and was hospitalized and forced to take time off work. The day following her return, Sabrina felt her heart racing and notified managers who called an uber to take her to the hospital. Westwood, who escorted Sabrina to the Uber, reported that a manager said to her "Make sure you book this off as holiday time so you don't get an escalation on your warning."
Yet another employee, Nick, explained that ​​​​​​​"I had cancer three years ago, and I got called into a meeting and received a warning because I breached the three and a half month time off. If I didn't take that time off, I would have died." Hylton and Westwood were among the union representatives trained to support workers in those situations, and can now confront the multinational's management head on: "We're telling them for the first time, 'you're breaking the law' and they don't like that."
"We're chipping away at them," exclaims Garfield Hylton. Darren Westwood adds that "it's inspiring all those people who work for smaller companies. We're fighting back. This can be won. We're not taking no for an answer."