Subscribe to our newsletter:
*UPDATE: Since this article has been written, the Camp Morgan blockade at the Brady Hill Landfill was dismantled by Winnipeg Police at noon on July 18th. In the early morning, supporters of the camp were confronted by the police, telling them they must remove the blockade or they will do it for them. Forced to comply with an injunction that held the threat of police enforcement, the blockade was removed and a second camp, Camp Marcedes will be at the Canadian Museum of Human Rights in downtown Winnipeg.*
On Thursday July 6, supporters of Camp Morgan, including various Indigenous Warrior groups, re-established their blockade on one of the two entrances to the Winnipeg city's Brady Hill Landfill site. "On Tuesday, the Federal government bounced our request for a search [of the Prairie Green landfill] back to the Provincial government. And Provincial [government] said they don't support a search—but they are willing to put up a monument. So it's forcing us to have this response." Diane Bousquet, a supporter, told North Star.
"It's an insult to our people, culture and belief systems. They're asking us to go there every mothers day, birthday, and Christmas, and to sit in a pile of garbage to honour them. Really think about that... It feels like they just want to hurt us. They have the means and power, the money is there. And instead, every day they dump on top of these women. It's wrong. It's just wrong."
Camp Morgan was established on December 18, 2022 by Cambria Harris, the daughter of Morgan Harris, one of four women confirmed to have been murdered by Jeremy Skibicki. The camp was erected, after the remains of Rebecca Contois were found in Brady Hill Landfill, to demand the search of Prairie Green and Brady Hill Landfill for the remaining victims, Morgan Harris, Marcedes Myran, and Buffalo Woman (unidentified).
The City of Winnipeg served the Camp Morgan blockade with an injunction on Friday July 14. An injunction allows the city to use the police to both arrest and and forcibly remove people. Melanie, a supporter of the blockade, tells North Star about the injunction: "[We continue fighting] because this is a cause worth getting sunburned over, worth biking across the city for, worth telling everybody who will listen and even those who won't- that this needs to change."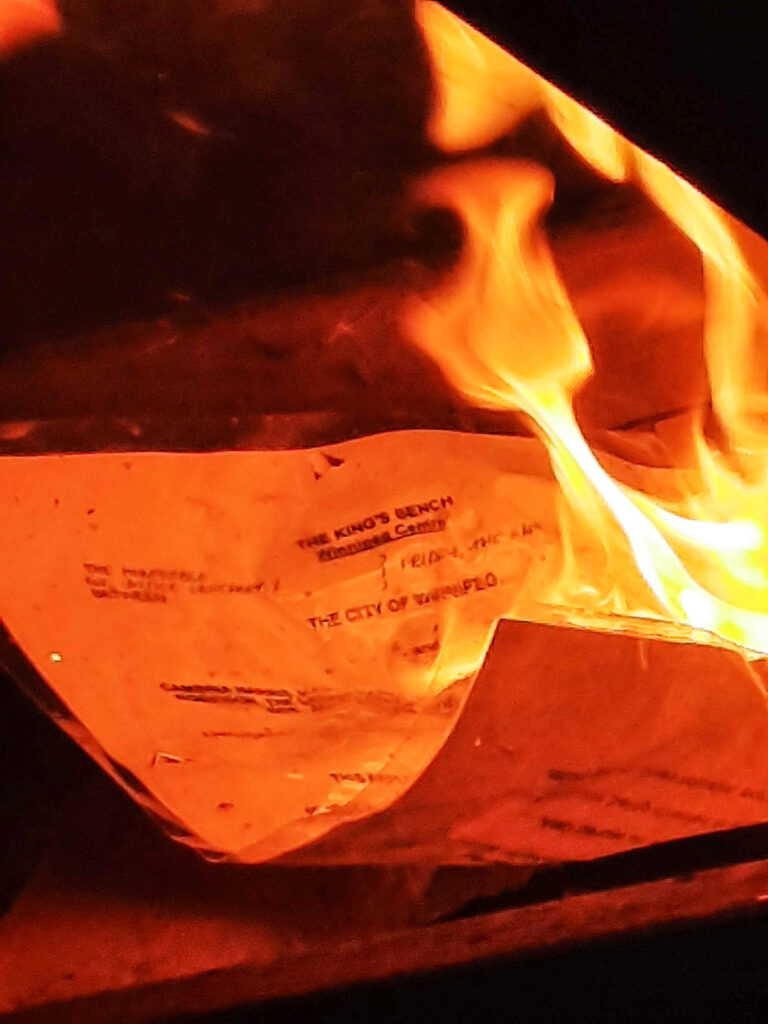 "The way they come at us all the time, on our own land, our own territory, we shouldn't have no injunction on our land. When they do that, it creates tension in the air. If this is what reconciliation is all about on behalf of Canada, then I guess I don't want any part of this reconciliation." Tre Delaronde told North Star at the blockade.

"We see what happened in the Oka crisis. We see what's happened in the past time. When we see police, we see aggression. They carry guns and we don't... It makes you think, is this what the government is really all about? The government starts to show its true true colours, and then there you have it... It changes us."

Melanie spoke about the necessity of people coming together, "Things need to get better...people who are in power and do nothing should be absolutely ashamed of themselves. When you have power you should use it to help, you should use it to heal and to grow, and that's not what's happening, and it's deplorable."
"All I gotta say is come to the Brady Landfill, come see for yourself what the situation looks like rather than what the media is saying. I know there's a lot of disputes here and there between the media and what is happening on the front lines. And sometimes the media doesn't report on the truth so, come check it out. Come and be part of this. It's for all people, all walks of life, all faiths to come down and be a part of this." Tre told North Star.