Subscribe to our newsletter:
Workers at the Sheraton Vancouver Airport Hotel, represented by Local 40 of the Unite Here union, have been picketing daily since June 14 in front of the establishment owned by a Canadian oligarch family, the Laljis.​​​​​​​ Their employees, including room attendants, banquet waiters, receptionists and food service staff, are on work stoppage to oppose the hotel's refusal to pay a decent wage.
The Sheraton Vancouver Airport Hotel, a popular convention centre, was censured for violating the British Columbia Labour Code by hiring illegal replacement workers for the duration of the strike. This is the third such violation since the strike began. For these violations, the BC Labour Relations Board has issued cease and desist orders against the hotel.
The striking workers are driven by frustration and a determination to demand wages that keep pace with the rising cost of living in Metro Vancouver. Many of these employees, mainly women and immigrants, are struggling to make ends meet, holding down several jobs just to cover basic expenses.
"It makes me angry that our managers seem to have no issue breaking laws during our strike and continue to use replacement workers," said Felisha Perry, a banquet waitress at the hotel. "They refuse to treat us with respect and acknowledge they need their staff to keep the Sheraton Vancouver Airport running as guests expect. My coworkers and I want to get back to work – but we're not working for less than living wages."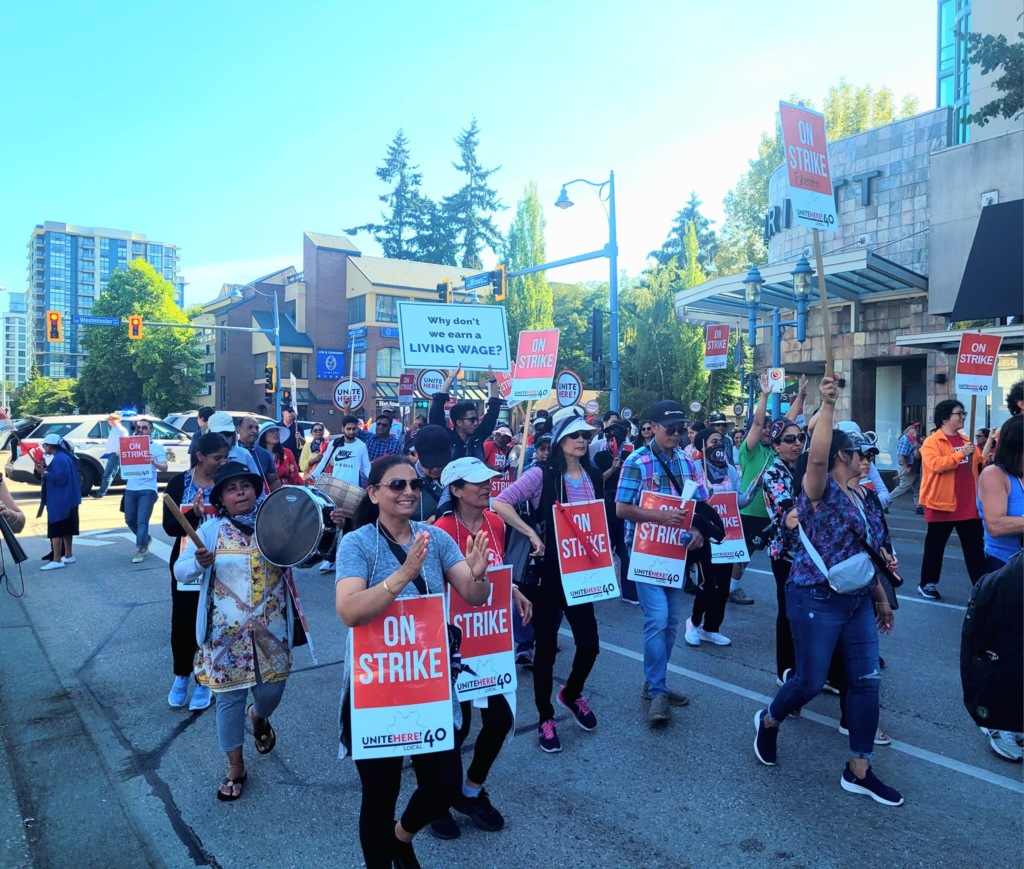 The Lalji family, one of Vancouver's wealthiest families with an estimated net worth of $2.7 billion, has come under increasing public scrutiny for its treatment of employees. Larco Hospitality, a corporation owned by the family, is the operator of the Sheraton Vancouver Airport Hotel as well as several other hotels, including branches of Hiltons, Marriotts and Fairmont.
Despite the Sheraton's high room rates, which can reach $400 a night or more, employees say their pay is well below industry norms. The Lalji family's wealth and property portfolio stand in stark contrast to the hardships faced by these employees who welcome visitors from all over the world to Vancouver.
"I cleaned rooms here for over 25 years and I'm proud of that," said Ana Wong, a dedicated hotel employee. "I got injured on the job, but I'm still here, contributing to our guests' experience and helping to make the hotel successful. It feels like Larco doesn't value the workers here, so I'm ready to strike for the respect and living wage I deserve."
The workers received overwhelming support from the BC Federation of Labour in response to the hotel's refusal to accede to their demands. The federation has declared a public boycott of the Sheraton Vancouver Airport Hotel and its sister hotels, the Hilton Vancouver Airport and the Vancouver Airport Marriott.
Sussanne Skidmore, President of the BC Federation of Labour, said: "When an employer repeatedly treats their workers with callous disrespect and appalling unfairness, a boycott is exactly the right response. UNITE HERE Local 40 workers deserve our full support — and this employer doesn't deserve a dime of our business."