Subscribe to our newsletter:
In the world of private consulting firms, few names come with as much prestige as that of McKinsey & Co. Known for its discretion as much as its controversies, this company shapes the economies and governments of the world year after year. It is present everywhere, changing organisational structures to make them work in unison, aligning the interests that run them.
This multinational firm operates confidentially and publicizes its work as little as possible: it sells its ideas, but also the credit for those ideas. This approach enables them to represent competing companies - even if they claim to erect solid barriers between their cases. This claim is challenged by their attempt to influence US Food and Drug Administration (FDA) policy in 2018 on behalf of corporate client Purdue.
Looking back over the past 40 years of consulting firms' work, what is most apparent is their role in promoting the principle of 'shareholder primacy'. This organisational principle has played a decisive role in the decline of the 'middle class' in the West.
Shareholder primacy is a managerial approach that seeks to maximise the value derived from a company's shares, whatever the cost, ahead of its relevance to society. This principle has led to numerous job losses, factory relocations, intensification and deterioration of working conditions, and cuts in pensions and social benefits. The gains of the twentieth century workers' struggles, such as high wages and good working conditions, have been progressively set aside.
These policies are the result of McKinsey's strong links with the economic and financial elites, and this is reflected in its recruitment practices. The company attracts a large number of graduates from top American universities by offering them attractive salaries. Many CEOs listed in the Fortune 500 are former employees of the multinational, and being an employee of the company is a fast track to top jobs in global companies.
However, McKinsey's influence extends far beyond the corporate sector, as the company is represented on countless government bodies. In Canada, for example, McKinsey has had a subtle but powerful influence on immigration policy, raising concerns about the reasons behind the current immigration targets. In the UK, McKinsey won a contract by participating in a rigged tender to provide business cases and advice on technology strategy. McKinsey also appears to have worked with any government, regardless of its political orientation: Liberals in Canada, En Marche in France, Conservatives in Britain, to name but a few.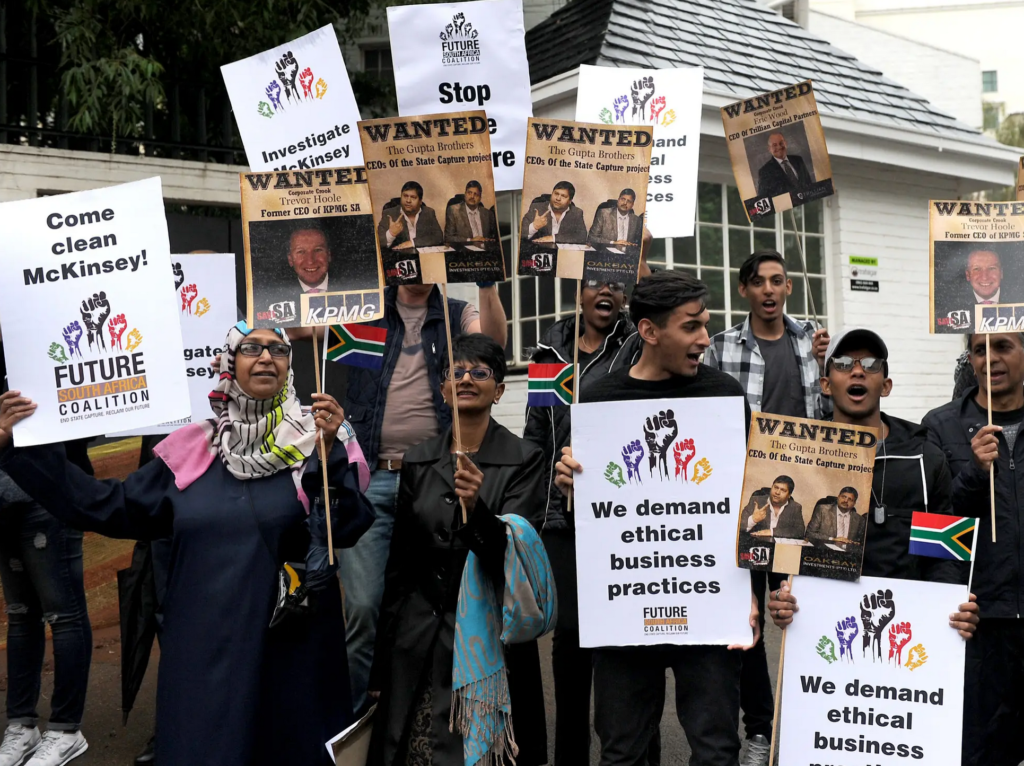 Perhaps the most worrying aspect of McKinsey's influence is that it functions as a 'shadow government', potentially working on behalf of private interests. The firm has been accused of advising governments to privatise public services, cut social programmes and implement austerity measures that benefit its clients. Similar allegations have been made against other consultancies such as Bain and Boston Consulting Group.
It is not so much that McKinsey controls the world by itself and for itself, but rather that it serves as a link between the industrial, political and financial elites. It unites their interests and their ways of operating.
As an illustration of this collusion, McKinsey, led by its former employee Pete Buttigieg, was allegedly possibly involved in the bread price manipulation scandal in Canada from 2005 to 2015, having been hired to work on the pricing of products in shops during that period. Of course, this was before Pete Buttigieg ran in the Democratic primary and became US Secretary of Transportation.